Walking On Water

AUS 2001 • 90 Min. • engl.OV.

Regie: Tony Ayres
(s.a. »Cut Snake« (2014))

Buch:
Roger Monk

mit:
Vince Colosimo, Maria Theodorakis, Judi Farr, Nathaniel Dean, Nicholas Bishop, Anna Lise Phillips

Kamera / Bildgestaltung:
Robert Humphreys

Schnitt / Montage:
Reva Childs

Musik:
Anthony Partos
Teddy Award Bester Spielfilm Berlin 2002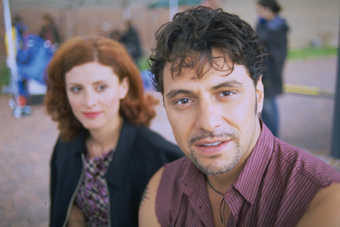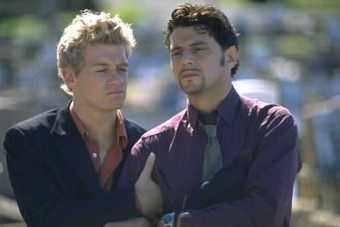 Nachdem Charlie bei dem Freitod seines Freundes Gavin die Nerven verloren hatte, zweifelt er an sich ...

| | |
| --- | --- |
| | sein Lover Frank versucht ihn, zu unterstützen ... |
Gavin ist unheilbar krank; Anna und Charlie sind seine engsten Freunde. Die drei haben einen Pakt geschlossen: Wenn Gavin sein Leben nicht länger ertragen will, werden sie ihm helfen, in Würde zu sterben. Als es so weit ist und Gavin trotz einer massiven Dosis Morphium nicht stirbt, reagiert Charlie panisch und streift ihm eine Plastiktüte über den Kopf. Gavin stirbt - jedoch ganz anders als von allen erhofft. Anna stürzt sich daraufhin in die Vorbereitungen für die Beerdigung. Sie reißt alles an sich, nur um nichts fühlen zu müssen. Die Hilfe, die ihr Gavins Mutter Margaret anbietet, schlägt sie aus, und auch Charlie, der sich 18 Jahre lang um Gavin gekümmert hatte, macht sie klar, dass er hierbei überflüssig ist. Charlie hofft, dass sein Liebhaber Frank ihm helfen kann, mit seinen Schuldgefühlen klarzukommen. Doch Frank ist einfach noch zu jung und so betäubt Charlie sich mit Drogen. Simon, Gavins jüngerer Bruder, ist von dessen Tod zutiefst erschüttert. Er spürt plötzlich den Drang, sich seiner Verantwortung als Ehemann und Vater zu entziehen. Und er fühlt sich zu Anna hingezogen. Die beiden beginnen eine heftige Affäre. Anna sieht in der Liaison eine Möglichkeit, an ihrer Liebe zu Gavin festzuhalten. Als Charlie schließlich davon erfährt, kommt es zu einem schweren Streit zwischen den beiden alten Freunden ...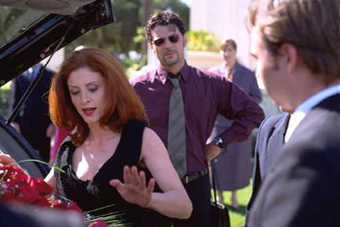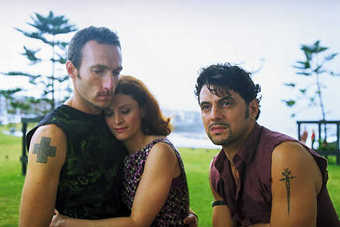 Anna reisst sämtliche Beerdigungsarbeiten an sich ...

das Leben wird auch ohne Gavin weitergehen ...
Gavin has an incurable illness. Anna and Charlie are his closest friends. The trio have a pact: should Gavin find it impossible to go on living, the others promise to help him die with dignity. The time comes when Gavin decides he is ready to die, but when even a large dose of morphine fails to kill him, Charlie panics and places a plastic bag over Gavin's head.Gavin's death is far from gentle and not at all as they agreed it would be. Anna throws herself into the funeral preparations; she insists on taking care of everything so as to avoid allowing her feelings to get the upper hand. She refuses to receive any help from Gavin's mother,Margaret, and she even makes it clear to Charlie, who spent eighteen years looking after Gavin, that he is not needed. Charlie hopes that his lover, Frank, will help him to cope with his feelings of guilt.However, Frank is still too young to understand and so Charlie tries to numb his feelings with drugs. Gavin's younger brother, Simon, is utterly shattered by his elder brother's death. Although Simon is married with a child, he finds himself filled with an overwhelming desire to run away from his responsibilities; he begins to feel attracted to Anna and it is not long before the two are having a passionate affair.Anna sees the relationship with Simon as a way of hanging on to her love for Gavin. One day,Charlie hears about this affair and a terrible argument between the two old friends ensues ...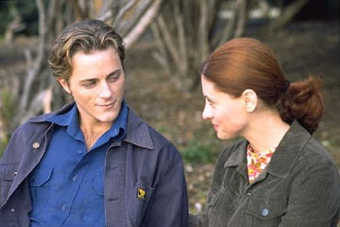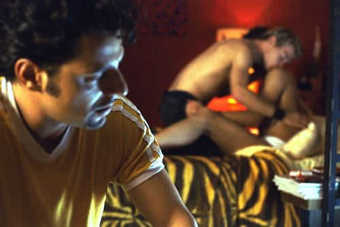 Simon, der mit Frau und Kind angereiste jüngere Bruder von Gavin, kommt mit der Situation ebenfalls nicht klar ....
Carlie und Frank versuchen sich mit Drogen und Sex abzulenken, doch Charlie ist die Lust vergangen ...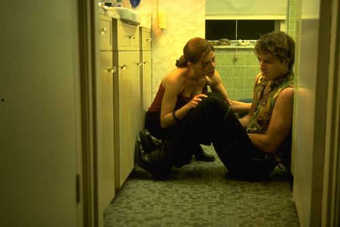 zwischen Anna und Simon bahnt sich eine Affaire an ...
Dieser Film lief im Xenon im April 2004