Derek

UK 2008 • 76 Min. • frei ab 16 • engl.O.m.U.

Regie:
Isaac Julien

Buch und Erzählerin:
Tilda Swinton

mit: Derek Jarman
(s.a. »Edward II« (1991) und »Caravaggio« (1986) und »Sebastiane« (1976)),
Tilda Swinton
(s.a. »The Killer« (2023) und »Memoria« (2021) und »We Need To Talk About Kevin« (2011) und »The Deep End« (2001) und »Love is the Devil« (1997) und »Edward II« (1991) und »Caravaggio« (1986)), Isaac Julien u.v.a.

Kamera / Bildgestaltung:
Nina Kellgren

Schnitt / Montage:
Adam Finch

Musik: Simon Fisher Turner
(s.a. »Edward II« (1991) und »Caravaggio« (1986))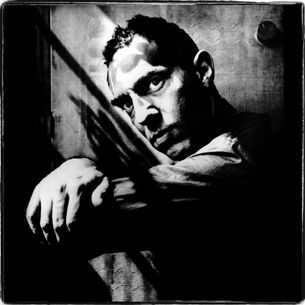 Derek Jarman
Derek Jarman machte aus seinem Leben ein Fest, zu dem alle eingeladen waren. Der Maler, Autor, Gärtner, Aktivist und ­ vor allem ­ Filmemacher hatte eine besondere Ausstrahlung auf seine Zeit. Seine engste Verbündete Tilda Swinton und Isaac Julien, der sein künstlerisches Erbe antrat, haben sich zusammen getan und für DEREK seine Kunst und sein Leben wieder auf die Leinwand gebracht ...

Ein Off-Kommentar. Tilda Swinton beginnt ihren
»Letter To An Angel«
vorzulesen, einen eindringlichen und verführerischen Text, geschrieben 2002. Zu diesem Zeitpunkt war Jarman, einer der meistgeliebten und originellsten Künstler Großbritanniens, bereits 8 Jahre tot. Ein aufrichtiges und bislang nicht veröffentlichtes Interview, 1991 gedreht mit einem schon von der tödlichen Krankheit gezeichneten Jarman, ist das Herz dieses Films. Der Brief und das Interview sind verwoben mit kaum bekannten Super-8-Filmen des Künstlers und seiner Eltern, Archivmaterial, Ausschnitten aus den Spielfilmen, Popvideos, privaten Aufnahmen und neuen Bildern: Tilda in Dungeness und London, Isaac Julien im Jarman-Archiv ...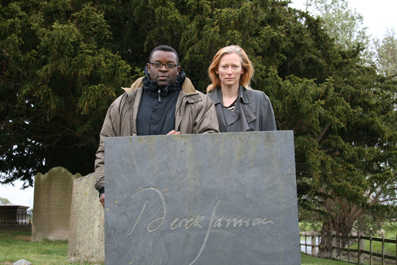 Isaac Julien und Tilda Swinton am Grab Jarmans ...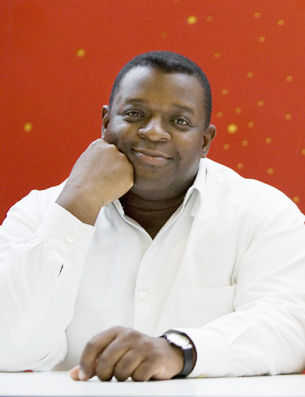 Isaac Julien


Dieser Film lief im Xenon im Januar bis Februar 2009