Rückblick auf das Jahr 2006:

2006 ging es mit den Besucherzahlen, im Vergleich zum Vorjahr 2005, mit einem Zuwachs von 6,7 % wieder etwas bergauf.
John Cameron Mitchells »Shortbus« wurde Besucherstärkster Film, verpasste aber knapp den Einzug in die Top 20, in deren Reihenfolge es somit keine Änderungen gab. Auch auf den Plätzen 2 - 4 und 7 folgen reine US-Independent-Produktionen, dazu drei (dt.) Dokus über George Michael, Peter Berlin und Indiens Drittes Geschlecht, sowie ein dt. Trashfilm und ein trauriger Ozon-Film aus Frankreich komplettieren die Top 10 des Jahres 2006.
Die Besucherstärksten Filme 2006:


Shortbus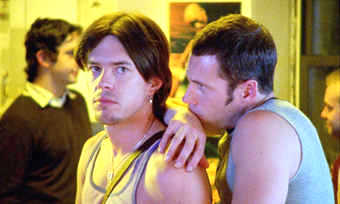 Transamerica
Capote
Little Miss Sunshine
George Michael - A Different Story
Between The Lines - Indiens drittes Geschlecht
Dorian Blues
18:15 Uhr ab Ostkreuz
Die Peter Berlin Story - That Man
Die Zeit die bleibt - Le Temps qui reste
Hier die
Top Twenty
des Xenon Kinos, angeführt von einem Rainer Matsutani Film mit Katja Riemann, Christoph M. Ohrt und Ulrike Folkerts ... die genannten Besucherzahlen sind auf 50 Besucher auf- bzw. abgerundet!
Die ewige Bestenliste (ab 1.6.1995)

01. (01.) 5.350 Nur über meine Leiche
02. (02.) 3.450 Paris Was A Woman
03. (03.) 3.300 Yossi & Jagger

04. (04.) 2.950 Lola und Bilidikid
05. (05.) 2.800 Trick
06. (06.) 2.750 Fire - Wenn Liebe Feuer fängt
07. (07.) 2.550 Sommersturm
08. (08.) 2.500 In And Out
09. (09.) 2.400 The Deep End - Trügerische Stille
10. (10.) 2.400 Der Club der gebrochenen Herzen

11. (11.) 2.300 Skin Flick
12. (12.) 2.300 Jeffrey - It's Just Sex!
13. (13.) 2.300 When Night Is Falling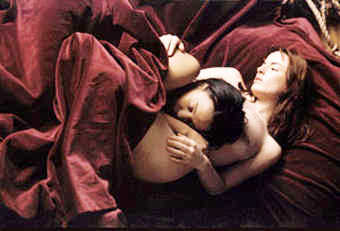 In Patricia Rozema's »When Night is Falling« verliebt sich eine Hochschul-Professorin in eine Zirkus-Artistin ... lief von Juni bis November 1995 …
(Bild: © TiMe Film)
14. (14.) 2.250 The Adventures Of Priscilla - Queen Of The Desert
15. (15.) 2.200 Escape to Life - Die Erika und Klaus Mann Story
16. (16.) 2.200 Sommer wie Winter ... - Presque Rien
17. (17.) 1.950 Ich kenn' keinen - Allein unter Heteros
18. (18.) 1.950 Das Kondom des Grauens
19. (19.) 1.900 Fremde Haut
20. (20) 1.900 Dem Himmel so fern - Far From Heaven