Kissing Jessica

»Kissing Jessica Stein« USA 2002 • 96 Min. • MPAA: Rated R for sexual content and language

Regie:
Charles-Herman Wurmfeld

Buch:
Heather Juergensen, Jennifer Westfeldt

mit:
Heather Juergensen, Jennifer Westfeldt, Scott Cohen, Tovah Feldschuh, Jackie Hoffman

Kamera / Bildgestaltung: Lawrence Sher
(s.a. »Trauzeuge gesucht - I Love You, Man« (2009))

Schnitt / Montage:
Kristy Jacobs Maslin, Greg Tillman

Musik:
Marcelo Zarvos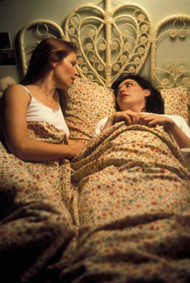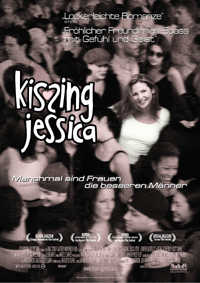 »Kissing Jessica Stein«, dessen Arbeitstitel ursprünglich »Lipschtick« war, begann als Theaterstück am Off-Off-Broadway im Herbst 1997. Die Autorinnen Heather Juergensen und Jennifer Westfeldt entwickelten den Stoff weiter und daraus enstand dieser Film, in dem sie auch die Hauptrollen übernahmen. Jessica Stein ist eine etwas verunsicherte junge New Yorkerin, die zuviel arbeitet und schon lange keine vernünftige Verabredung mehr hatte. Eines Tages springt ihr bei der Arbeit am Computer eine Kontaktanzeige ins Auge, und nach anfänglichem Zögern kommt es zu einem Date … mit Helen, denn die Anzeige stand unter »Frau sucht Frau« … Und wie es dann eben so ist, stellt sich zwischen der Lesbe und der Hetera schnell eine Vertrautheit her, aus der heraus sich tatsächlich eine Liebschaft entwickelt … Familie, Umfeld und Ex-Partner reagieren irritiert … wie es weitergeht, sei hier nicht verraten …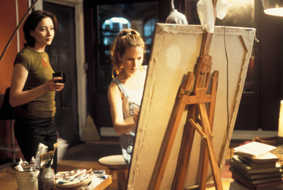 Helen ist Künstlerin ... Jessica lernt Helen kennen ...
»Kissing Jessica Stein« is a fresh take on the subject of sex and the single girl. When we first meet Jessica - a sensitive but neurotic New York journalist - she is at the end of her emotional rope. Her brother's engaged, her best friend's pregnant, she hasn't dated in a year, and she can't sleep. After an optimistic but nightmarish dating spree, she happens upon an intriguing personal ad, whose only drawback is that it's in the »women seeking women« section. On a daring whim, she decides to answer it. She meets funky downtown hipster Helen Cooper for drinks and, to her surprise, they click instantly. Their evening of banter, connection and heated debate culminates in a kiss that confounds and intrigues even the reluctant Jessica. With conventional gender roles absent, the two women proceed to muddle through an earnest, but hilarious courtship, making up the rules as they go along. »Kissing Jessica Stein« is a modern romantic comedy that breaks all the rules -- it blurs the lines between friendship and romantic love, and finds the funny, surprising and ultimately poignant overlap between the two.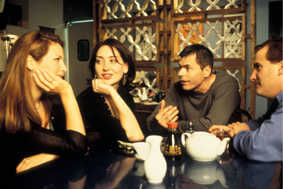 Dieser Film lief im Xenon im Juli bis August 2002