Der Jane Austen Club
»The Jane Austen Book Club« USA 2007 • 105 Min. • frei ab 0 • MPAA: Rated PG-13 for mature thematic material, sexual content, brief strong language and some drug use

Regie:
Robin Swicord

Buch:
Robin Swicord nach dem gleichnamigen Roman von Karen Joy Fowler

mit:
Kathy Baker, Maria Bello, Marc Blucas,
Emily Blunt
(s.a. »My Summer of Love« (2004)), Amy Brenneman,
Hugh Dancy
(s.a. »Spuren eines Lebens« (2007)), Maggie Grace, Jimmy Smits,
Kevin Zegers
(s.a. »Transamerica« (2005)), Lynn Redgrave (s.a. »Kinsey« (2005) und »Ein Freund zum Verlieben« (2000) und »Gods And Monsters« (1998))

Kamera / Bildgestaltung:
John Toon

Schnitt / Montage:
Maryann Brandon

Musik: Aaron Zigman
(s.a. »Sex And The City« (2008)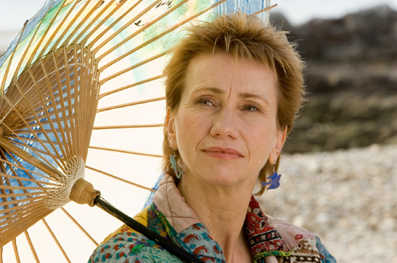 .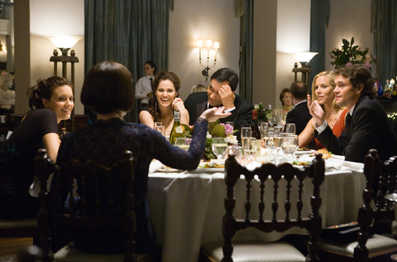 Bernadette, die Initiatorin des Buchclubs ... beim Dinner ...
»Ist allgemeine Unhöflichkeit nicht genau das Wesen der Liebe?«
Jane Austen
Sylvia wird nach langen, scheinbar glücklichen Ehejahren plötzlich von ihrem Mann verlassen. Ihre Freundin Bernadette, eine starke Frau, die ihr Leben nach eigenen Regeln lebt, organisiert daraufhin einen »Buchclub«, um der Verzweifelten dabei zu helfen, wieder auf andere Gedanken zu kommen. Fünf Frauen treffen sich einmal im Monat, um über eines von Jane Austens Büchern zu diskutieren: Neben Bernadette und Sylvia sind das Sylvias lesbische Tochter Allegra, die eigentlich nur ihre Mutter über den Verlust hinwegtrösten will, die junge Lehrerin Prudie, die in einer unglücklichen Ehe lebt, sowie Sylvias Single-Freundin Jocelyn, die den einzigen Mann mit in den Club bringt: Grigg, der insgeheim hofft, durch den Buchclub bei Jocelyn landen zu können. Als die Gruppe nach und nach die einzelnen Werke von Austen durchgeht, entwickelt sich das Liebesleben eines jeden Beteiligten parallel zu den Geschichten Austens: Unbewusst sucht sich jeder die Plots und Charaktere aus, die dem eigenen Leben ähneln ­ und projiziert seine Wünsche, Sorgen und Hoffnungen in die Bücher hinein ...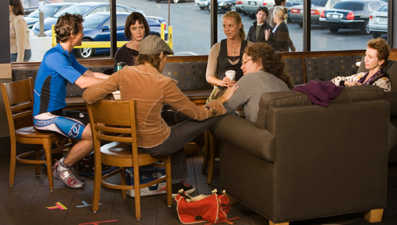 .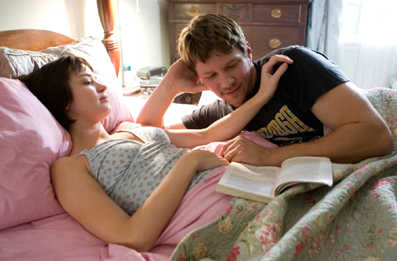 der Buchclub hat sein erstes Treffen ... Prudie und Dean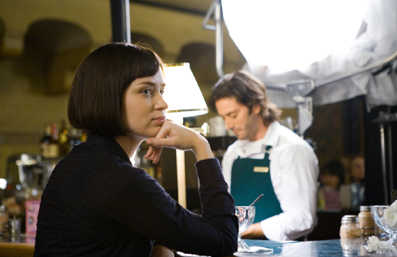 .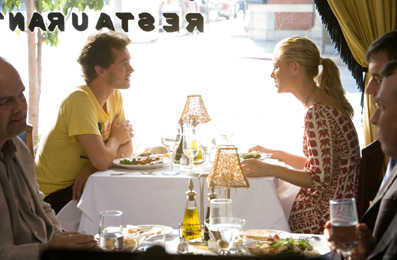 Prudie zweifelt an ihrer Ehe ... Grigg ist fasziniert von Jocelyn ...
Dieser Film lief im Xenon im März 2008