Hedwig and the Angry Inch

USA 2000 • 88 Min. • MPAA: Rated R for sexual content and language • engl.OV.

Regie: John Cameron Mitchell
(s.a. »Shortbus« (2006) und »Tarnation« (2004))

Buch:
John Cameron Mitchell, Stephen Trask nach dem Theaterstück von John Cameron Mitchell

mit:
John Cameron Mitchell (Hedwig/Hansel), Andrea Martin (Phyllis Stein),
Michael Pitt (
Tommy Gnosis) (s.a. »Die Träumer« (2003)), Alberta Watson (Hansels Mutter), Stephen Trask (Skszp), Rob Campbell (Krzysztof), Theodore Liscinski (Jacek), Michael Aronov (Schlatko), Miriam Shor (Yitzhak)

Kamera / Bildgestaltung: Frank G. DeMarco
(s.a. »Shortbus« (2006))

Schnitt / Montage:
Andrew Marcus

Musik und Texte:
Stephen Trask

Animation, Grafik:
Emily Hubley

Teddy-Award Bester Spiefilm Berlinale 2001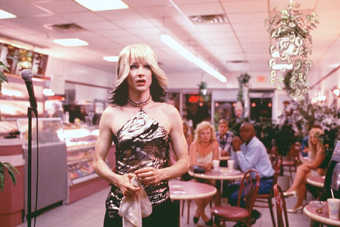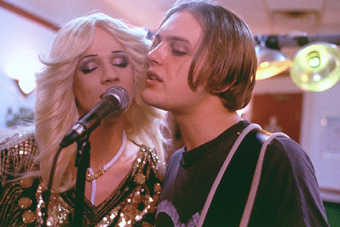 Hedwig fristet ihr Dasein in den USA mit Auftritten in schäbigen Einkauftszentren ... die grosse Liebe: der junge Tommy Gnosis ...

Einst hieß Hedwig Hansel und lebte, noch vor dem Mauerfall, in Ost-Berlin: ein einsamer Junge, der Trost allein auf AFN und bei westlicher Rockmusik findet. Zwei Träume hat der Knabe: ein Rockstar zu werden und seine »andere Hälfte« zu treffen. Womöglich offenbart sie sich ihm ja in Gestalt des GIs, der ihm Liebe und Freiheit in den USA verspricht? Und weil er Hansel heiraten will, unterzieht sich dieser einer - missglückenden - Operation, die bei Hedwig einen »angry inch«, einen »schäbigen Rest«, zurücklässt. Ein Jahr später sind die beiden geschieden. Hedwig haust in einem Trailer-Park in Kansas und sieht im Fernsehen, wie die Mauer fällt ... Doch wie Phönix aus der Asche kommt sie wieder auf die Beine, besorgt sich eine Farah-Fawcett-Perücke und gründet eine Rockband. Hält sich als Babysitter über Wasser und verliebt sich aufs Neue - in den 16-jährigen Jesus-Freak Tommy Gnosis. Zusammen machen sie die herrlichste Musik. Ob er die »andere Hälfte« ist? Leider nicht. Tommy verlässt sie und Hedwigs Songs nimmt er mit. Als er mit ihnen eine Mega-Karriere startet, bricht Hedwig das Herz. Entsetzt verfolgt sie im Radio, wie Tommy Fußballstadien füllt. Während sie dazu verurteilt ist, in schmierigen Restaurants aufzutreten, wo das Publikum sie mit Tomaten bewirft. In einer freudlosen New Yorker Nacht treffen die beiden sich zufällig wieder. Hedwig hofft auf Versöhnung. Doch sie bekommt was Besseres: Dank eines verrückten Missgeschicks richten sich alle Augen der Öffentlichkeit plötzlich auf sie. Nur noch auf sie ...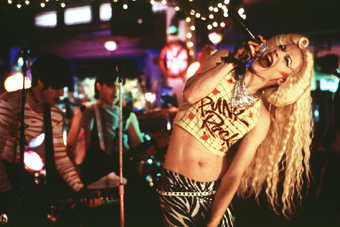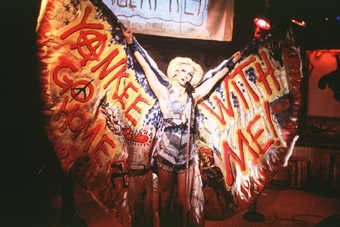 Once upon a time, Hedwig's name was Hansel and he lived in East Berlin before the fall of the wall. A lonely boy who found his only solace on American Forces Network radio and in western rock music, Hansel had but two dreams: to become a rock star and to meet his 'other half'. Could it be that he has found him in the shape of this American GI, who has promised him love and freedom in the United States? Since the GI even wants to marry Hansel, he decides to undergo a ­ sadly not quite successful ­ operation, which leaves Hedwig with a nasty 'angry inch'. A year later, the couple have divorced. Hedwig is now living in a trailer park in Kansas. On television one night she watches the wall come down. And so, like a phoenix from the ashes, she picks herself up, buys herself a Farah Fawcett wig and forms a rock band. She scrapes together a living working as a babysitter and falls in love again, this time with the sixteen-year-old Jesus freak Tommy Gnosis. The two make beautiful music together. Could he be her 'other half'? Unfortunately not. Tommy leaves her, taking Hedwig's songs with him. When he rockets to stardom, it breaks Hedwig's heart. Hedwig follows Tommy's career, devastated, as his records are played on the radio and his concerts fill entire football stadiums, while Hedwig is condemned to appearing in greasy spoon restaurants. One cheerless night in New York, the two run into each other by chance. Hedwig pins all her hopes on a reconciliation, but there's something better in store for her.A crazy mishap means that, suddenly, all eyes are on her. And only on her ...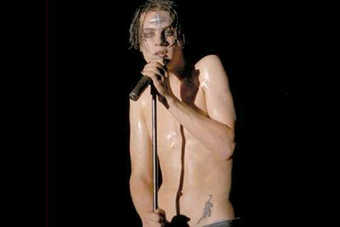 mit den von Hedwig geklauten Songs wird Tommy Gnosis zum Superstar ...
Dieser Film lief im Xenon im Oktober 2003