Die Berufung - Ihr Kampf für Gerechtigkeit

»On The Basis Of Sex« USA 2018 • 121 Min. • frei ab 0 • MPAA: Rated PG-13 for some language and suggestive content • engl. O.m.U.

Regie:
Mimi Leder

Buch:
Daniel Stiepleman

mit: Felicity Jones
(s.a. »Die Entdeckung der Unendlichkeit« (2014) und »Wiedersehen mit Brideshead« (2007)),
Armie Hammer
(s.a. »Call Me By Your Name« (2017) und »Nocturnal Animals« (2016) und »The Social Network« (2010)),
Justin Theroux
(s.a. »Mulholland Drive« (2001) und »Broken Hearts Club« (2000), Sam Waterston,
Kathy Bates
(s.a. »Zeiten des Aufruhrs« (2008), Cailee Spaeny

Kamera / Bildgestaltung: Michael Grady
(s.a. »Factory Girl« (2006))

Schnitt / Montage:
Michelle Tesoro
(s.a. »Maestro« (2023))

Musik: Mychael Danna
(s.a. »Score - Eine Geschichte der Film-Musik« (2017) und »Little Miss Sunshine« (2006) und »Capote« (2005) und »Wahre Lügen« (2005))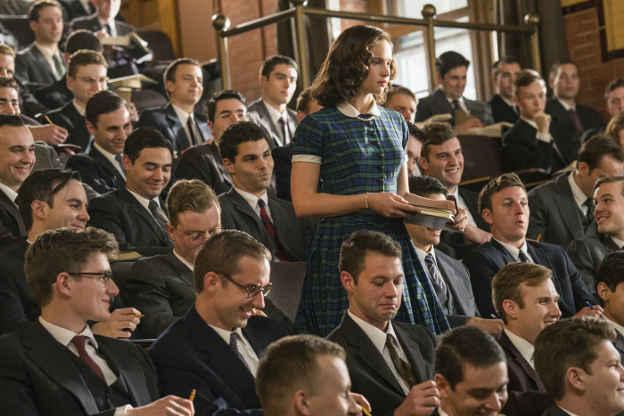 Die junge Miss Ginsburg studiert als eine von wenigen Frauen in Harvard ...
Es sind die 50er Jahre in den Vereinigten Staaten von Amerika. Frauen dürfen weder als Polizeibeamtinnen arbeiten noch in Princeton studieren. Ruth Bader Ginsburg will diese Welt verändern. Sie studiert als eine von wenigen Frauen Jura an der Elite-Universität Harvard. Nach ihrem Abschluss als Jahrgangsbeste muss sie sich mit einer Stelle als Professorin zufriedengeben, obwohl sie lieber die Gerichtssäle erobern würde - ein Privileg, das ihren männlichen Kollegen vorbehalten ist. Dank ihres Mannes und Steueranwalts Marty wird sie eines Tages auf den Fall Charles Moritz aufmerksam. Trotz der aufopfernden Pflege seiner kranken Mutter, wird Moritz nicht der übliche Steuernachlass gewährt - aufgrund seines Geschlechts. Ruth wittert einen Präzedenzfall, der eine seit Jahrzehnten stillstehende Gesetzeslage ad absurdum führt. Mit eisernem Willen und scharfem juristischen Verstand zieht Ruth endlich vor Gericht und in einen leidenschaftlichen Kampf gegen die Diskriminierung von Frauen (und Männern) ...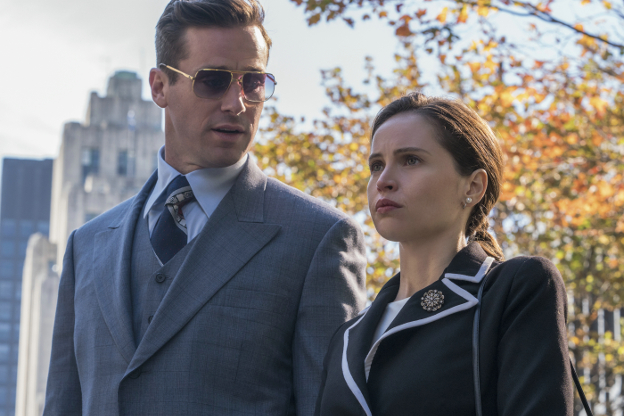 Ihr Mann Marty ...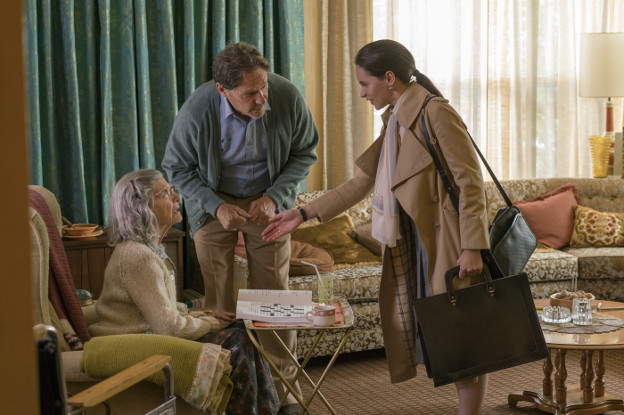 Charles Moritz pflegt seine kranke Mutter, doch ihm werden Steuererleichterungen verwehrt ...
Ginsburg kämpft für Gerechtigkeit ...