Elizabeth

UK 1998 • 124 Min. • frei ab 12 • MPAA: Rated R for violence and sexuality

Regie:
Shekhar Kapur

Buch:
Michael Hirst

mit:
Elizabeth I:
Cate Blanchett
(s.a. »Tár« (2022) und »Carol« (2015) und »I'm Not There« (2007) und »Tagebuch eines Skandals« (2006) und »Ein perfekter Ehemann« (1998)), Sir Francis Walsingham:
Geoffrey Rush
(s.a. »The King's Speech« (2010) und »The Banger Sisters« (2002)), Duke of Norfolk: Christopher Eccleston, Robert Dudley, Earl of Leicester: Joseph Fiennes, Sir William Cecil: Richard Attenborough, Mary of Guise:
Fanny Ardant
(s.a. »8 Frauen« (2002)), John Ballard:
Daniel Craig
(s.a. »Love is the Devil« (1997)) und als Papst:
John Gielgud
(s.a. »Caligula« (1979 / 1984),
Emily Mortimer
(s.a. »The Party« (2017) und »Notting Hill« (1999))

Kamera / Bildgestaltung:
Remi Adefarasin

Schnitt / Montage: Jill Bilcock
(s.a. »Head On« (1998))

Musik:
David Hirschfelder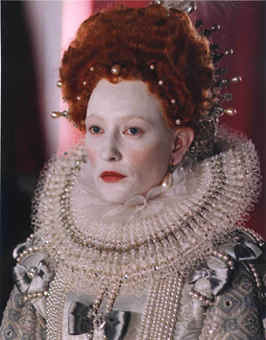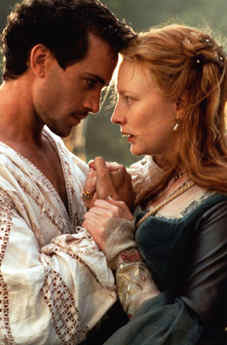 Elizabeth - vom Adelsgeschlecht der Tudor - war für ihre Zeit eine sehr
moderne
Frau. Die Tochter Heinrichs VIII. und seiner zweiten Ehefrau Anne Boleyn besaß einen
unabhängigen Geist
und einen eisernen Willen. Inthronisiert im Jahre 1558, bestand eine ihrer größten Leistungen darin, ihr Leben eines natürlichen Todes zu beschließen und nicht, wie viele ihrer Zeitgenossen, ein vorzeitiges und gewaltsames Ende zu finden. Sie regierte in einer
männlich dominierten
Welt und mußte schnell lernen, mit der unablässigen Gefahr von Intrige und Verrat zurechtzukommen, der sie zeitlebens ausgesetzt war und die sie vor unbarmherzige Prüfungen als Frau und Monarchin stellte. Vor diesem geschichtlichen Hintergund spielt die Handlung des Films. Der historische Thriller konzentriert sich dabei auf ihre Lebensjahre als junge Prinzessin und die Anfangszeit ihrer außergewöhnlich erfolgreichen Regentschaft als Königin ...


Dieser Film lief im Xenon im Januar 1999