Kreuz und Queer

»Bedrooms and Hallways« UK 1998 • 96 Min. • MPAA: not rated

Regie:
Rose Troche

Buch:
Robert Farrar

mit: Kevin McKidd
(Leo) (s.a. »De-Lovely« (2004))),
Tom Hollander
(Darren) (s.a. »Stage Beauty« (2004)),
Hugo Weaving (
Jeremy) (s.a. »Matrix Reloaded« (2003) und »Matrix« (1999) und »Priscilla - Queen of the Desert« (1994)) , James Purefoy (Brendan),
Jennifer Ehle
(Sally) (s.a. »Little Men« (2015) und »The King's Speech« (2010) und »Oscar Wilde« (1997))

Kamera / Bildgestaltung:
Ashley Rowe

Schnitt / Montage:
Chris Blunden

Musik:
Ian MacPherson, Alfredo D. Troche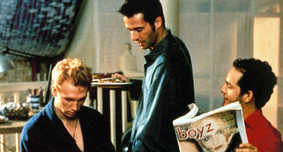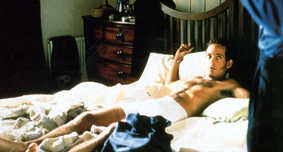 London Mitte der 90er-Jahre: Leo ist des Singledaseins müde. Etwas neidisch blickt er auf seinen Mitbewohner Darren der gerade eine wilde Sex-Affäre mit dem Immobilienmakler Jeremy genießt. Weder Darren noch Nachbarin und Freundin Angie können Leo wirklich aufmuntern. Er entschließt sich, an einer Männer Selbsterfahrungsgruppe teilzunehmen. Hier begegnet er Brendan, der gerade den schwierigen Versuch einer Trennung von seiner Freundin durchleidet und deshalb in der Therapiegruppe landete. Leo verknallt sich in den vermeintlichen Hetero, so aussichtslos das auch erscheint. Aber: Er kriegt seinen Traummann tatsächlich ins Bett. Da aber taucht Sally auf, eine alte Freundin von Leo, Brendans Noch- oder vielleicht Schon-nicht-mehr-Partnerin. Zerrissen zwischen dem Verlangen nach Brendan und der Loyalität gegenüber Sally, stürzt Leo aus dem siebten Himmel in eine tiefe Krise. Eine Entscheidung ist fällig. Doch welche ist die richtige?