Wachgeküsst

»Living Out Loud« USA 1998 • 93 Min. • frei ab 12 • MPAA: Rated R for language, and for some drug content and sexuality

Regie: Richard LaGravenese (
s.a. Darsteller in »Pushing Dead« (2016))

Buch: Richard LaGravenese
(s.a. »Liberace« (2013))

mit:
Holly Hunter,
Queen Latifah
(s.a »Hairspray« (2007)),
Danny deVito
(s.a. »Wiener Dog« (2016)),
Elias Koteas
(s.a. »My Days Of Mercy« (2017) und »Gattaca« (1997)),
Martin Donovan
(s.a. »The Opposite of Sex« (1998)),
Eddi Cibrian
(Masseur) (s.a. »Weil ich ein Mädchen bin« (1999))

Kamera / Bildgestaltung:
John Bailey

Schnitt / Montage:
John Gregory, Lynzee Klingman

Musik: George Fenton
(s.a. »Stage Beauty« (2004) und »Center Stage« (2000) und »Gefährliche Liebschaften« (1989)), Clark Anderson, Mervin Warren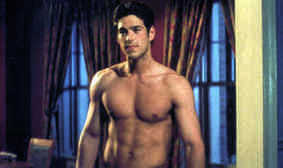 .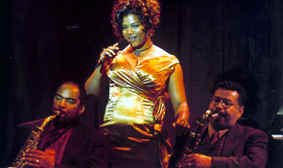 die gefrustete Judith (Hunter) lässt sich von einem Masseur verwöhnen ... doch anstatt sich auf den kleinen dicken Pat (deVito) einzulassen, lernt sie die Nachtclub-Sängerin Liz (Queen Latifah) kennen ...
Die geschiedene Krankenschwester Judith sucht nach 17 Jahren Ehe Identität und neue Freunde. Zu ihren neuen Bekannten zählen alsbald die glamouröse Nachtclubsängerin Liz und Nachtportier Pat. Der verschuldete Pat und sie finden zwar keine neue Liebe, motivieren sich aber zur Erfüllung ihrer jeweiligen Lebensträume. Drehbuchautor LaGravenese wählte für sein Regiedebut eine eloquente Komödie im Stile Woody Allens, deren zentrale Figur eine frisch geschiedene Großstadtneurotikerin ist. In drolligen Kommentaren aus dem Off setzt sich die von Holly Hunter blendend gespielte Vierzigerin mit ihrem angekratzen Selbstbewußstein auseinander. Blickpunkt Film ...
Und am beeindruckensten ist sicherlich die Episode in der Queen Latifah Hunter unter Drogen in die Lesbendisco mitnimmt. Völlig losgelöst mittendrin folgt sie nur der Choreographie der Musik und der der anderen Frauen ...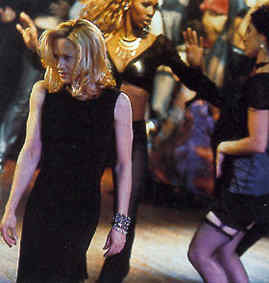 .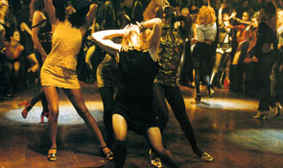 Liz nimmt sie mit in eine Lesben-Disco ... und dort geht sie zum ersten Mal so richtig aus sich raus ... Übrigens, wenn Ihr den Soundtrack irgendwo findet, er ist unbedingt empfehlenswert!
Dieser Film lief im Xenon im März 1999