Little Voice

UK / USA 1998 • 96 Min. • frei ab 12 • MPAA: Rated R for language and brief nudity

Regie:
Mark Herman

Buch:
Mark Herman nach Jim Cartwrights Stück »The Rise and Fall of Little Voice«

mit: Brenda Blethyn
(s.a. »Abbitte« (2007)),
Jane Horrocks
(s.a. »Absolutely Fabulous« (2016)),
Ewan McGregor
(s.a. »August: Osage County« (2013) und »Beginners« (2011) und »The Ghostwriter« (2010) und »Männer die auf Ziegen starren« (2009) und »I Love You Phillip Morris« (2009) und »Velvet Goldmine« (1998)),
Michael Caine
(s.a. »1 Mord für 2« (2007)), Jim Broadbent, Philip Jackson, Annette Badland, Adam Fogerty

Kamera / Bildgestaltung:
Andy Collins

Schnitt / Montage:
Michael Ellis

Musik: John Altman
(s.a. »Beautiful Thing« (1996))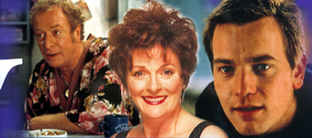 Gleich vorweg: Hier gibt es weder eine schwule Handlung noch eine verkorkste homoerotische Beziehung, keine geilen, nackten Hintern oder ähnliche, vermeintliche schwulenrelevante, Details - und doch ist »Little Voice« des Briten Herman (»Brassed Off«) einer der schwulsten und schönsten Filme, die man sich derzeit antun kann. Denn nicht nur, daß Fans von »Absolutely Fabulous« ein unerwartetes und unglaubliches Wiedersehen mit der doofen Bubble alias Jane Horrocks erwartet. »Little Voice« spricht ganz und gar aus der schwulen Seele: Das junge Mädchen Laura lebt in einer jener britischen Kleinstädte, in denen man nicht einmal sterben will. Der Vater tot, die Mutter eine verfettende, ordinäre, laut krakelende Nervensäge. Da bleibt für die Unverstandene nur der Rückzug ins eigene Zimmer und zur Plattensammlung. Und da steht, was unser Herz begehrt. Judy Garland, Marlene Dietrich, Edith Piaf, Marilyn Monroe. Statt zu sprechen, singt die panisch schüchterne Little Voice - und zwar so perfekt, bis in die Gestik und Mimik, daß man seinen Augen nicht traut. Schon schleimt ein Agent um sie herum, um sie unter einem Vorwand auf die Bühne zu zerren. Und selbst ihr verschrobener heimlicher Verehrer und Taubenzüchter Billy kann sie kaum vor diesem Desaster bewahren ...
Axel Schock im QUEER 06/1999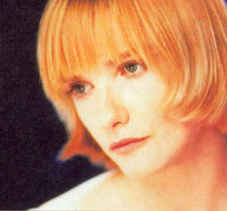 Dieser Film lief im Xenon im Juli bis Aigust 1999