Yossi & Jagger

»Yossi & Jagger« Israel 2002 • 67 Min. • hebr. O.m.U.

Regie: Eytan Fox
(s.a. »Yossi« (2012) und »The Bubble« (2006) und »Walk On Water« (2004))

Buch:
Avner Bernheimer

mit: Ohad Knoller
(Yossi) (s.a. »Yossi« (2012) und »The Bubble« (2006)), Yehuda Levi (Jagger), Assi Cohen (Ofir), Aya Koren (Yaeli), Hani Furstenberg (Goldie), Sharon Raginiano (Oberst), Yuval Semo (Psycho)

Kamera / Bildgestaltung: Yaron Scharf
(s.a. »The Bubble« (2006) und »Close to Home« (2005))

Schnitt / Montage: Yosef Grundfeld
(s.a. »Yossi« (2012) und »The Bubble« (2006) und »Walk On Water« (2004))

Musik: Ivri Lider
(s.a. »The Bubble« (2006) und »Walk On Water« (2004))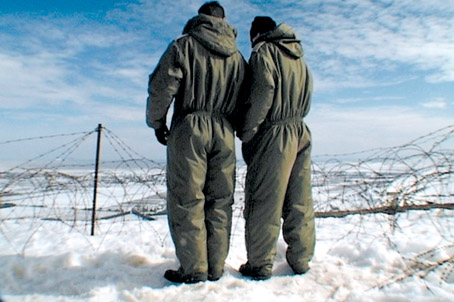 Jagger, der von seinen Kollegen so genannt wird, weil er wie ein Rockstar aussieht, bewacht mit seinem Vorgesetzten Yossi die Grenze zum Libanon ...
Yossi, ein Kompaniechef, und Jagger, einer seiner Gruppenführer, können kaum gegensätzlicher sein. Yossi, ein wortkarger Grübler mit Grundsätzen, und der viel aufgeschlossenere und gewandtere Jagger sind an der Grenze zwischen Israel und dem Libanon stationiert. Ihre Beziehung müssen sie geheim halten. Zu ihrer Kompanie gehören eigenwillige Typen. Einer beschäftigt sich mit fernöstlichen Religionen, ein anderer bereitet aus den Militärrationen ansehnliche Sushis und alle haben ihre Träume vom Leben und ihre Affären. Bald wird Jaggers Dienstzeit enden. Er ist davon überzeugt, dass auch Yossi den Dienst quittieren sollte. Die durch den gefährlichen Grenzeinsatz angespannte Atmosphäre wird durch die Liebesgeschichte der Offiziere weiter verschärft ... Allein ihre Lebenslust verbindet diese 20-Jährigen, die anstatt unbeschwert ihre Zukunft in Angriff zu nehmen, jeden Tag mit dem Tod konfrontiert sind ...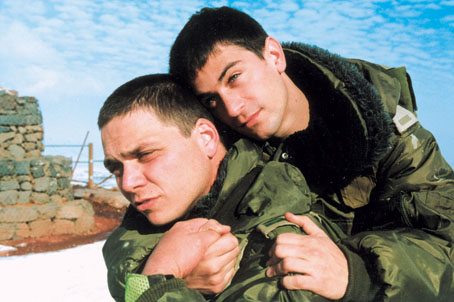 in unbemerkten Momenten, wenn sie alleine im Grenzstreifen sind, tollen Yossi und Jagger im Schnee herum ...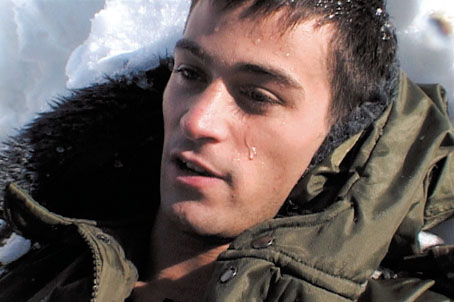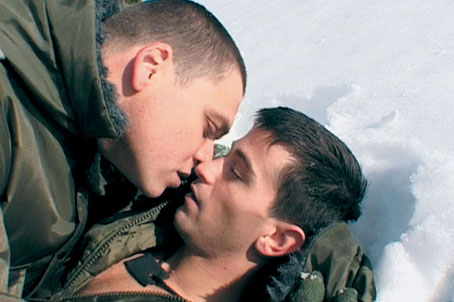 nur hier können sie zu ihrer Liebe stehen ...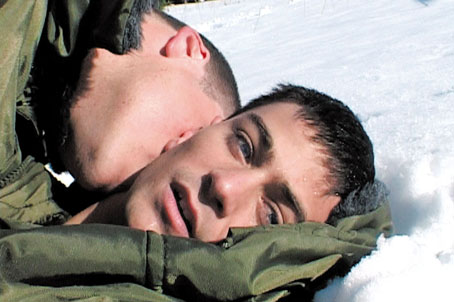 ... und nur ein kleiner Hase darf das alles beobachten ... (hier nicht im Bild)
Israeli Army. Company commander Yossi and Jagger, one of his squad leaders, couldn't be more different.Yossi, a reticent brooder with principles and the much more open-minded and deft Jagger, are both stationed at the Israeli-Lebanese border. Their love affair is something that must be kept under wraps. The company to which they both belong is something of a motley crew. One of the soldiers has developed an interest in Asian religions, whilst another enjoys making attractive sushi arrangements from their military rations. All of them have their own dreams and affairs. Jagger's military service is about to come to an end and he is convinced that Yossi should also leave the army. The atmosphere ? already loaded as a result of their posting to a dangerous border area ? becomes even more charged as a result of the love affair between the two officers ... But, instead of tackling the future in a carefree manner, these young men are obliged to look death in the face, every single day ...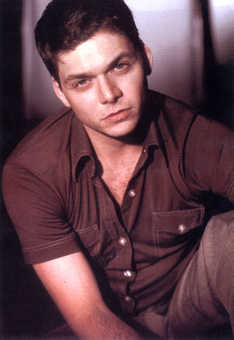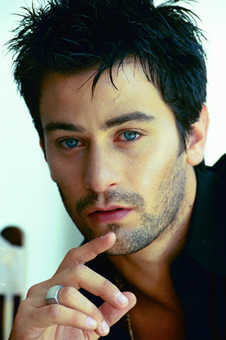 Dieser Film lief im Xenon im Dezember 2003 bis März 2004