Psycho (1998)

»Psycho« USA 1998 • 106 Min. • dt. Fassung

Regie: Gus van Sant
(s.a. »Milk« (2008) und »Paranoid Park« (2007) und »Elephant« (2003) und sowie »Wild Tigers I Have Known« (2006) und »Tarnation« (2004)

Buch:
Joseph Stefano nach einer Vorlage von Robert Bloch

mit:
Anne Heche, Vince Vaughn,
Julianne Moore
(s.a. »Maggies Plan« (2016) und »Freeheld« (2015) und »Still Alice« (2014) und »Maps To The Stars« (2014) und »The Kids Are All Right« (2010) und »A Single Man« (2009) und »I'm Not There« (2007) und »Wilde Unschuld« (2007) und »Far From Heaven« (2002) und »The Hours« (2002) und »Magnolia« (1999) und »Ein perfekter Ehemann« (1999) und »Cookie's Fortune« (1998),
William H. Macy
(s.a. »Magnolia« (1999) und »Happy, Texas« (1998)) und Viggo Mortensen

Kamera / Bildgestaltung: Christopher Doyle
(s.a. »Paranoid Park« (2007))

Schnitt / Montage: Amy E. Duddleston
(s.a. »Laurel Canyon« (2003) und »High Art« (1997))

Musik: Bernhard Herrman
(s.a. »Taxi Driver« (1975))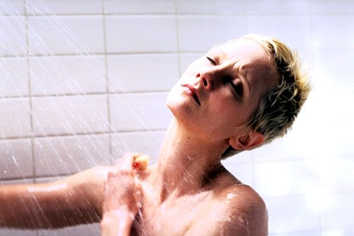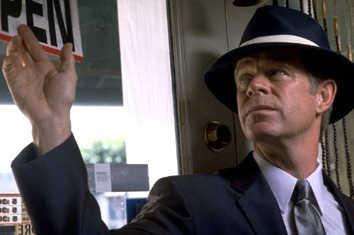 mit dem unterschlagenen Geld auf der Flucht macht Marion Crane erstmal Rast im Bates Motel ... der Detektiv auf der Spur ...
... der von vornherein als Bild-für-Bild-Remake angekündigte, neue »Psycho« wurde seit Monaten von Geheimnissen und Gerüchten umgeben, was mögliche neue Handlungswendungen und die Detailtreue betraf. Das Drehbuch nach dem Roman von Robert Bloch wurde erneut von Joseph Stefano adaptiert. Wieder unterschlägt die Sekretärin Marion Crane Geld, diesmal sind es 400.000 Dollar, und flüchtet sich in Richtung ihres Liebhabers Sam Loomis. Auf dem Weg checkt sie fatalerweise in das abgelegene Bates-Motel ein, wo sie die Bekanntschaft des Betreibers Norman Bates macht. Kurz darauf segnet Marion in der Dusche brutal das Zeitliche. Alsbald beginnt die Suche nach der Vermißten, und so treten der Detektiv Arbogast, Sam und Marions Schwester in die bizarre Welt des masturbierenden Muttersöhnchens Bates ...
Blickpunkt Film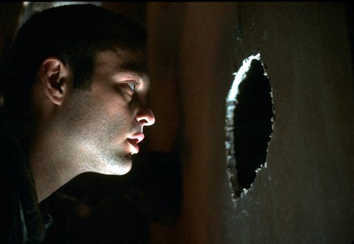 beobachtet wird sie dabei vom Inhaber Norman Bates ...

Dieser Film lief im Xenon im Februar 1999