Queercore: How To Punk A Revolution

USA 2017 • 83 Min. • frei ab 16 • engl. O.m.U.

Regie: Yoni Leyser (
s.a. »Desire Will Set You Free«)

Buch:
Yony Leyser

mit: Bruce LaBruce
(s.a. Regisseur von »Gerontophilia« (2014) und »L.A. Zombie« (2010) und »Otto; Or Up With Dead People« (2008) und »The Raspberry Reich« (2003) und »Skin Flick« (1999)), G.B. Jones, Genesis Breyer P-Orridge,
John Waters
(s.a. »Die Peter Berlin Story« (2005)), Justin Vivian Bond, Lynn Breedlove, Jody Bleyle, Silas Howard, Pansy Division, Penny Arcade, Kathleen Hanna, Kim Gordon, Deke Elash, Tom Jennings, Beth Ditto, Peaches u.v.m.

Kamera / Bildgestaltung:
Thom Erhardt

Schnitt / Montage:
Ilko Davidov, Kathrin Brinkmann

Musik:
Hyenaz

Animation:
Aimee Goguen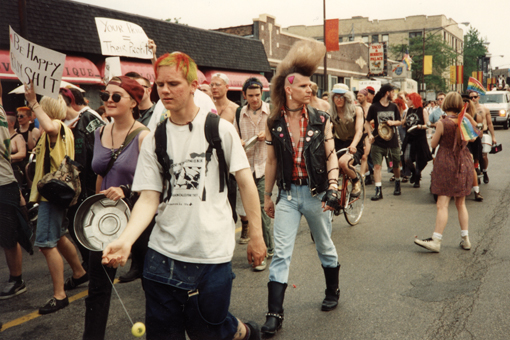 Was machst Du, wenn es die offene Gemeinschaft, die Du als queerer Punk dringend brauchst, nicht gibt? Rede Dir einfach ein, es gibt sie doch! Klebe und drucke Fanzines, drehe und vertreibe subversive Filme, schreibe anarchistische Songs, Do It Yourself und vor allem: Don't Give A Fuck! Nach und nach wird aus der anfänglichen Pseudo-Gemeinschaft eine revolutionäre Welle werden, ja eine internationale Bewegung ... 'Queercore: How to Punk a Revolution' erzählt die Geschichte jener lose verbundenen Gruppe von nordamerikanischen Punk-Künstler_innen, die in den 1980er und 90er Jahren ihre queeren Identitäten radikal ins Zentrum der eigenen Arbeiten rückten – und sich damit nicht nur gegen die damals von heterosexuellen Männern dominierte und latent homophobe Punk-Szene auflehnten, sondern auch gegen den allzu angepassten schwulen Mainstream.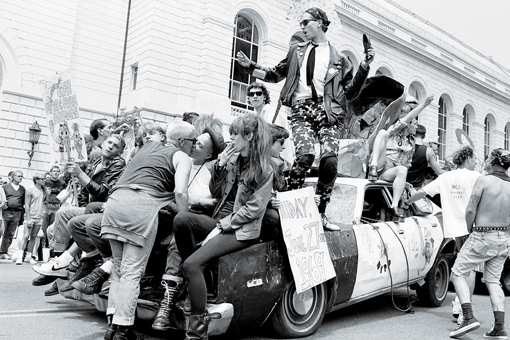 Regisseur Yony Leyser lässt dazu die schillernden Schlüsselfiguren der Bewegung zur Wort kommen: die Filmemacher_innen Bruce LaBruce und G.B. Jones, die Musiker_innen Kim Gordon (Sonic Youth), Jody Bleyle (Team Dresch) und Kathleen Hana (Bikini Kill), ihren schamlosen Wegbereiter John Waters – und viele mehr. Künstler_innen wie Beth Ditto und Peaches erzählen, wie die Bewegung ihr Verständnis von queerem Leben und Denken geprägt hat, das sich von allen normativen Einschränkungen löst. Filmclips, Konzertausschnitte und Aufnahmen der spektakulärsten Aktionen dokumentieren das vielschichtige Schaffen der Szene. Leyser mitreißendes Szene-Porträt schließt nicht nur eine klaffende Lücke innerhalb der nicht-heterosexuellen Geschichtsschreibung, es ist auch ein wilder Appell gegen jede Form der falschen Anpassung.