Die Mühle und das Kreuz
»Mlyn I krzyz / The Mill And The Cross« SWE / POL 2011 • 95 Min. • frei ab 12 • engl./span.O.m.U.
Regie:
Lech Majewski
Buch:
Lech Majewski, Michael Francis Gibson
mit:
Rutger Hauer,
Charlotte Rampling
(s.a.
»The Look«
und
»Desacord Parfait«
und
»The Duchess«
und
»Swimming Pool«
), Michael York, Oskar Huliczka, Joanna Litwin
Kamera / Bildgestaltung:
Lech Majewski, Adam Sikora
Schnitt / Montage:
Eloit Ems, Norbert Rudzik
Musik: Lech Majewski, Jósef Skrzek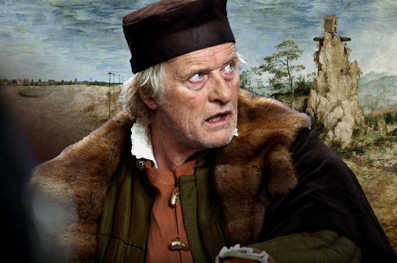 der flämische Maler Pieter Bruegel erhält den Auftrag mal wieder die Kreuztragung Christi zu malen ...


Im Jahr 1564 erhält Pieter Bruegel von dem reichen Antwerpener Kaufmann und Kunstsammler Nicolas Jonghelinck den Auftrag, die Kreuztragung Christi zu malen. Er nimmt den Auftrag an, doch will er nicht eine weitere von unzähligen Versionen der Passionsgeschichte liefern, sondern etwas Besonderes schaffen: Ein Bild, das eine Vielzahl von Geschichten erzählt und das gross genug ist, hunderte von Menschen aufzunehmen. Aber vor allem soll die Kreuzigungsgeschichte nicht im Heiligen Land, sondern in seiner flämischen Heimat spielen. Also geht Bruegel zu den Menschen auf den Höfen, Feldern und Märkten, um nach diesen Geschichten in einem Land zu suchen, das unter spanischer Herrschaft steht und in dem die Inquisitoren erbarmungslos wüten. Er hält alles in seinen Skizzen fest und beginnt auf diese Weise, die Schicksale von unzähligen Menschen virtuos miteinander zu verflechten ...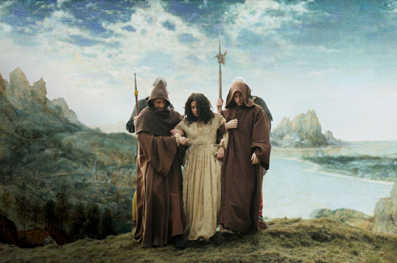 ... verlegt das Geschehen aber in seine Heimat ...




... und so tragen die beteiligten Menschen - wie hier Maria - landestypische ländliche Tracht ...

»Die Mühle & das Kreuz« ist eine intelligente und betörend schöne Adaption des weltberühmten Gemäldes »Die Kreuztragung Christi«, der es im buchstäblichen Sinne gelingt, das Bild zum Leben zu erwecken und uns seine komplexe Bildsprache und versteckten Bedeutungen zu enthüllen. Von den grossartigen Hauptdarstellern getragen, wirkt jede einzelne Szene mit seiner detailgenauen Ausstattung und kunstvollen Komposition aus Licht und Farbe wie ein weiteres von Bruegel geschaffenes Gemälde. Ein Filmkunstwerk.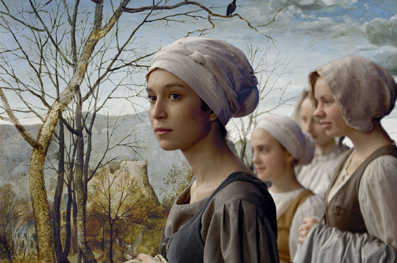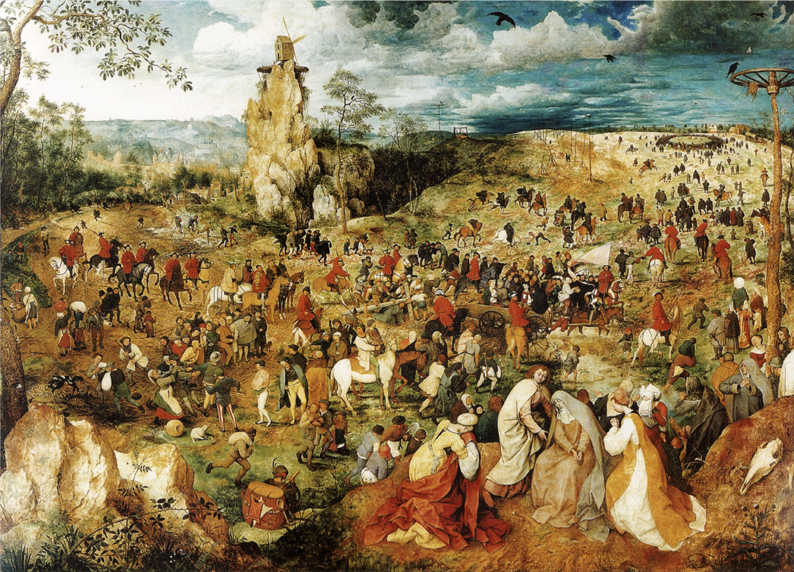 hier das Originalbild Bruegels aus dem Jahre 1564: Die Kreuztragung Christi klein ziemlich mittig auf dem Weg nach Gogatha, im Vordergrund rechts eingefügt die Beweinung ...

Dieser Film lief im Xenon im März 2012