Capote
USA 2005 • 113 Min. • frei ab 12 • MPAA: Rated R for some violent images and brief strong language
Regie:
Bennett Miller
Buch:
Dan Futterman nach dem Buch von Gerald Clarke
mit: Philip Seymour Hoffman
(s.a.
»Magnolia«
und
»Happiness«
),
Catherine Keener
(s.a.
»Get Out«
),
Clifton Collins Jr.
(s.a.
»Rules of Attraction«
und
»Tigerland«
),
Chris Cooper (
s.a.
»American Beauty«
),
Mark Pellegrino
(s.a. »Mullholland Dr.«),
Bob Balaban
(s.a.
»Howl«
und
»Ein Date zu Dritt«
)
Kamera / Bildgestaltung:
Adam Kimmel
Schnitt / Montage:
Christopher Tellefsen
Musik: Mychael Danna
(s.a.
»Score - Eine Geschichte der Filmmusik«
und
»Little Miss Sunshine«
und
»Where the Truth lies«
)
Golden Globe 2006 und OSCAR®™ 2006 für Hoffman als Bester Hauptdarsteller • 5 OSCAR®™-Nominierungen 2006: Bester Film, Beste Regie, Bestes adaptiertes Drehbuch, Bester Hauptdarsteller, Beste Nebendarstellerin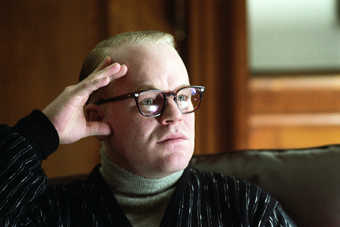 .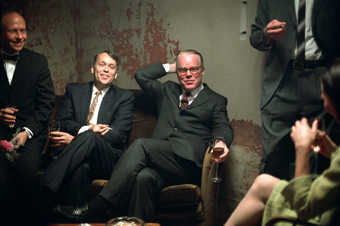 Truman Capote, der erfolgreiche, schwule Schriftsteller ..
.
im Kreise seiner Bewunderer ...
Im November 1959 ist Truman Capote dank des Erfolgs von
»Frühstück bei Tiffany«
ein gefeierter Schriftsteller und der Liebling des New Yorker Jetsets. Beim Lesen der New York Times wird er auf einen Aufsehen erregenden Mordfall aufmerksam: Eine vierköpfige Familie aus Kansas wurde förmlich hingerichtet. Kaltblütig. Spontan beschließt Capote, dass eine Untersuchung des Falls vor Ort sein nächster Artikel für den New Yorker werden soll. Begleitet von seiner Freundin und Muse, der Schriftstellerin Harper Lee, reist Capote ins amerikanische Hinterland, wo man dem flamboyanten Großstädter mit den auffälligen Manierismen mit großer Skepsis begegnet. Als noch während Capotes Recherchen die beiden Täter, Perry Smith und Dick Hickock, geschnappt werden, beschließt der Schriftsteller, den geplanten Artikel auszuweiten: Mit einem Roman über die wahren Ereignisse will er Literaturgeschichte schreiben und unsterblich werden. Doch bald schon entwickelt sich aus seinem anfänglichen Interesse wahre Obsession: Vor allem der intelligente Smith steht Capote bald näher, als ihm lieb sein könnte ...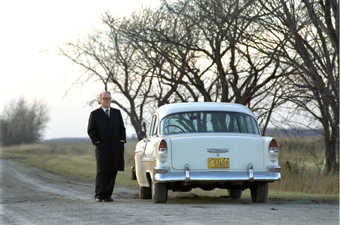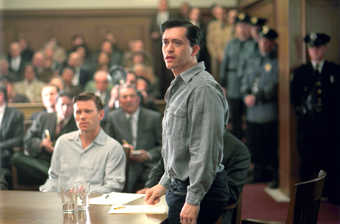 nachdem er in der Zeitung von einem kaltblütigen Mord an einer vierköpfigen Familie in Kansas gelesen hat, beschliesst er, in den Süden auf's Land zu fahren, um dort zu recherchieren ...
die beiden Täter Smith und Hickock werden schnell gefasst und vor Gericht gestellt ...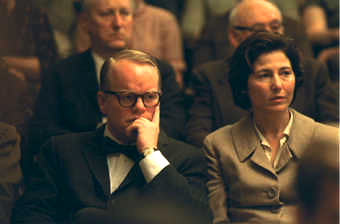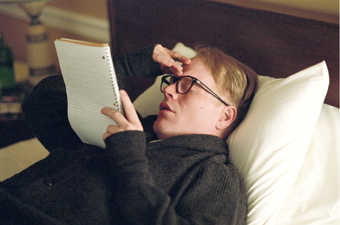 Capote und seine Freundin, die Autorin Harper Lee, verfolgen die Gerichtsverhandlungen ...
längst hat Capote beschlossen, den Stoff in einen Tatsachenroman zu verarbeiten, dazu führt er auch Interviews mit den Verdächtigen im Knast …

Dieser Film lief im Xenon im März bis April 2006