De-Lovely - Die Cole Porter Story

»De-Lovely« USA / UK 2004 • 126 Min. • frei ab 0 • MPAA: rated PG-13 for sexual content

Regie:
Irwin Winkler

Drehbuch:
Jay Cocks

mit:
Kevin Kline, Ashley Judd, Jonathan Pryce, Kevin McNally, Sandra Nelson,
Allan Corduner
(s.a. »Tàr« (2022) und »Food of Love« (2001) und »Edward II« (1991), James Wilby,
Kevin McKidd
(s.a. »Kreuz und Queer - Bedrooms and Hallways« (1998))

Kamera / Bildgestaltung:
Tony Pierce-Roberts

Schnitt / Montage:
Julie Monroe

Musik:
Stephen Endelman, Cole Porter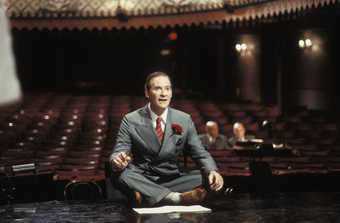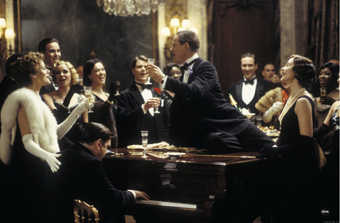 Cole Porter - seines Zeichens einer der berühmtesten Songwriter Amerikas ...
auf rauschenden Partys verfallen dem verheiratetem Ehemann auch reihenweise junge, attraktive Männer ... Affairen, denen Porter sich gerne hingibt ...
New York 1964. Cole Porter ist einer der Könige des Broadway-Musicals, einer der berühmtesten Songwriter Amerikas, doch ein glücklicher Mann ist er nicht mehr. Melancholisch am Piano in seinem Appartement sitzend, tritt der 73-Jährige eine Reise in seine Erinnerungen an, in eine Zeit, in der alles möglich war. In Paris, an der Schwelle zu den Roaring Twenties, begegnet der aufstrebende Komponist Linda. Sie wird die Muse und die Liebe seines Lebens, aber auch der Mensch, der in der gemeinsamen Ehe die größten Opfer bringt. Denn der Erfolg Cole Porters hat viele Begleiter - viele Männer, die auf den nicht endenden Partys und Premieren seinem Witz und Charme erliegen. Während sich Cole vom Rausch des Lebens treiben lässt, am Broadway und in Hollywood Karriere macht, hält Linda die Beziehung zusammen, bis beide Partner scheinbar unausweichlich auseinander driften. Doch der Mann, der so geistreich und melodisch die Liebe zu fassen verstand, ist längst von ihr gefangen. Nach einem Reitunfall ist sein Bein zerschmettert, sein Glück mit Linda aber wieder intakt. Obwohl er weiter Affären hat, sie sich arrangieren muss, und die größte Prüfung beiden noch bevorsteht ...
»It's De-lovely«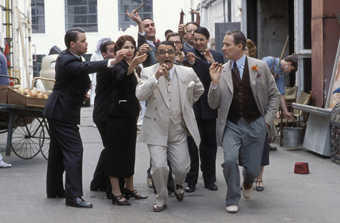 der Broadway ruft ...
The night is young, the skies are clear,
So if you want to go walking, dear,
It's delightful, it's delicious, it's de-lovely.

I understand the reason why
You're sentimental, 'cause so am I,
It's delightful, it's delicious, it's de-lovely.

You can tell at a glance
What a swell night this is for romance,
You can hear dear Mother Nature murmuring low
"Let yourself go."

So please be sweet, my chickadee,
And when I kiss you, just say to me,
»It's delightful, it's delicious,
»It's delectable, it's delirious,
»It's dilemma, it's delimit, it's deluxe,
»It's de-lovely.«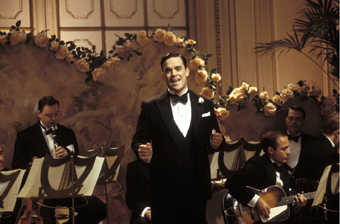 Gastauftritte von: Robbie Williams »It's De-lovely«
Elvis Costello »Let's Misbehave«
Alanis Morisette »Let's Do It, Let's Fall in» Love«
Sheryl Crow »Begin the Beguine«
Mick Hucknall »I Love You«
Diana Krall »Just One of Those Things«
Vivian Green »Love for Sale«
Lara Fabian »So in Love«
Mario Frangoulis »So in Love«
Natalie Cole »Ev'ry Time We Say Goodbye«