Jenseits von Eden

»East Of Eden« USA 1955 • 115 Min • frei ab 16 • MPAA: rated PG for thematic elements and some violent content • engl. O.m.U.

Regie:
Elia Kazan

Buch:
Paul Osborn nach dem gleichnamigen Roman von John Steinbeck

mit: James Dean
(s.a. »Giganten« (1956) und »... denn sie wissen nicht, was sie tun« (1955) und »Life« (2015) von Anton Corbin und »Joshua Tree, 1951« (2012) von Matthew Mishory), Julie Harris, Raymond Massey, Burt Ives, Richard Davalos, Jo Van Fleet

Kamera / Bildgestaltung:
Ted D. McCord

Schnitt / Montage:
Owen Marks

Musik: Leonard Rosenman
(s.a. »... denn sie wissen nicht, was sie tun« (1955))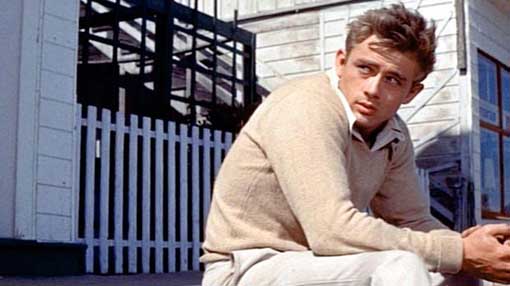 Im kalifornischen Ort Salinas betreibt Gemüsebauer Adam Trask im Jahr 1917 seine eigene Farm. Unterstützt wird der alleinerziehende Vater von seinen beiden Söhnen Aron und Caleb, die sich schon immer als Rivalen gesehen haben, wenn es um die Gunst ihres Vaters geht. Ihre Mutter Kate sei schon lange tot, in diesem Glauben ließ Adam seine Söhne zumindest. Doch Cal weiß schon lange, dass Kate die Familie freiwillig verließ und ein Bordell in Monterey leitet. Nur Aron ahnt von dieser Tatsache nichts. Jeden Tag versucht der sensible Cal aufs Neue, endlich den Respekt und die Anerkennung seines Vaters zu erhalten, die sein strebsamer Bruder schon seit Jahren genießt. Als Adam bei einem Versuch, tiefgefrorenen Salat an die Ostküste zu transportieren, sein gesamtes Vermögen verliert, fasst Cal den Plan, ihm das Geld wieder zu beschaffen. Er nutzt den Eintritt der USA in den Ersten Weltkrieg, um schnell Gewinn zu erzielen. Noch begreift Cal nicht, dass eine Liebe zwischen Vater und Sohn nicht auf Geld basiert ...
(Text: www.moviepilot.de)