Tigerland

»Tigerland« USA 2000 • 101 Min. • MPAA: Rated R for violence, pervasive language, a scene of strong sexuality and some drug use

Regie:
Joel Schumacher

Buch:
Ross Klavan, Michael McGruther

mit: Colin Farrell
(s.a. »A Home at the End of the World« (2004)), Matthew Davis, Tom Guiry, Cole Hauser,
Clifton Collins Jr.
(s.a. »Capote« (2005),
Michael Shannon
(s.a. »Nocturnal Animals« (2016) und »Freeheld« (2015) und »Bad Lieutenant - Cop ohne Gewissen« (2009) und »Zeiten des Aufruhrs« (2008))

Kamera / Bildgestaltung: Matthew Libatique
(s.a. »Maestro« (2023) und »The Whale« (2022) und »Black Swan« (2010))

Schnitt / Montage:
Mark Stevens

Musik: Nathan Larson
(s.a. »The Woodsman« (2004) und »Boys Don't Cry« (1999) und »Velvet Goldmine« (1998) und »High Art« (1997))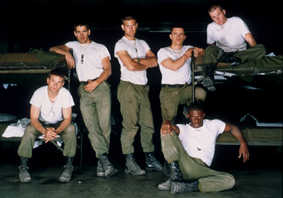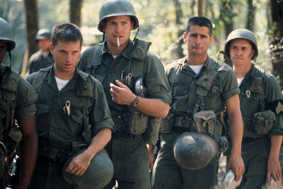 Amerika 1971
. Der Vietnamkrieg spaltet die Nation. In Fort Polk, Louisiana, werden weiter junge Rekruten für den Einsatz in Südostasien ausgebildet. Als realistische Simulation des Dschungelkriegs dient eine undurchdringliche Wildnis namens Tigerland. Jim Paxton hat sich freiwillig gemeldet in der trügerischen Hoffnung, er könne ein neuer Hemingway werden, wenn er seine Kriegserlebnisse aufschreibt. Miter will sich als Mann beweisen, Cantwell findet sich mit dem Unvermeidlichen ab und Wilson entwickelt einen echten Killerinstinkt. Für Aufruhr sorgt Roland Bozz. Er missachtet die sadistischen Befehle seiner Vorgesetzten und unterwandert mit seinen pazifistischen Reden die Moral der ganzen Kompanie. In der letzten Phase der Ausbildung, in der Hölle von Tigerland, kommt es zu einer tödlichen Konfrontation ...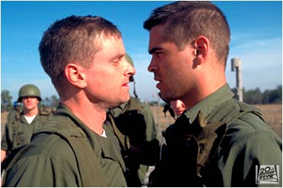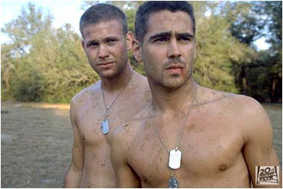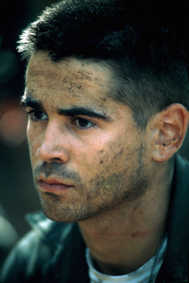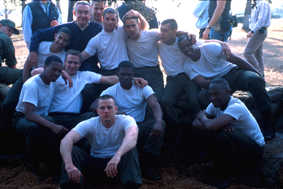 Regisseur Schumacher (oben li.) im Kreise seiner Jungs ...
Dieser Film lief im Xenon im Mai bis Juni 2001