The Kids Are All Right

USA 2010 • 107 Min. • frei ab 12 • MPAA: rated R for strong sexual content, nudity, language and some teen drug and alcohol use

Regie: Lisa Cholodenko
(s.a. »Laurel Canyon« und »High Art«)

Drehbuch:
Stuart Blumberg, Lisa Cholodenko

mit: Annette Bening
(s.a. »American Beauty«),
Julianne Moore
(s.a. »Freeheld« und »Still Alice« und »Maps To The Stars« und »I'm not There« und »A Single Man« und »Wilde Unschuld« und »Far From Heaven« und »The Hours« und »Cookies Fortune« und »Psycho 1998« und »Ein perfekter Ehemann« oder »Magnolia«), Mark Ruffalo,
Mia Wasikowska
(s.a. »Maps To The Stars« und »Albert Nobbs«), Josh Hutcherson, Yaya DaCosta

Kamera / Bildgestaltung:
Igor Jadue-Lillo

Schnitt / Montage:
Jeffrey M. Werner

Musik: Carter Burwell
(s.a. »Carol« und »Before Night Falls« und »Kinsey« und »Velvet Goldmine« und »Gods And Monsters«)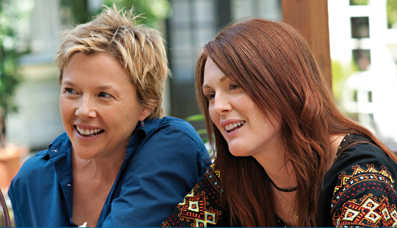 Nic und Jules
Ärztin Nic und Jules sind ein verheiratetes lesbisches Paar und führen in einer gemütlichen Vorstadt in Südkalifornien eine harmonische Ehe. Den beiden Kindern, dem 15jährigen Laser und der 18jährigen Joni, fehlt es an nichts. Nic und Jules oder »Mütter«, wie Joni sagt, wenn sie sich auf beide bezieht - liessen sich künstlich befruchten, trugen jeweils eines der Kinder aus und bauten zu viert ihr Familienleben auf. Da Joni nun bald aufs College gehen wird, bittet Laser sie inständig um einen grossen Gefallen: Joni soll ihm helfen, ihren gemeinsamen biologischen Vater aufzuspüren.
Obwohl sie der Aktion eher kritisch gegenübersteht, tut Joni ihrem (Halb)-Bruder diesen Gefallen und schafft es auch, Kontakt zu ihrem »Bio-Vater« Paul herzustellen, ein entspannter und freundlicher Restaurantbesitzer. Die Teenager sind sofort vom lockeren Lebensstil des eingefleischten Junggesellen begeistert - ist er doch der genaue Gegensatz zu Nic, der prinzipientreuen Ärztin, die schon immer die strengen Regeln im Haus festlegte. Jules, die danach strebt eine neue Karriere im Bereich der Landschaftsgärtnerei zu starten, versteht sich mit Paul ebenfalls ziemlich gut.
Als Paul nun immer mehr am Leben dieser so ausgeglichenen vierköpfigen Familie teilnimmt, beginnt völlig unverhofft ein ganz neues Kapitel in ihrem Leben: Familienbande werden definiert, neu definiert, und dann wieder ganz neu definiert …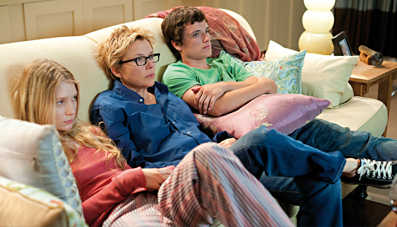 leben mit ihren zwei Kindern in einem Vorort von L.A.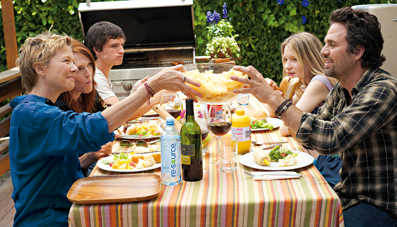 Joni und Laser haben ihren Samenspender aufgespürt und eingeladen ...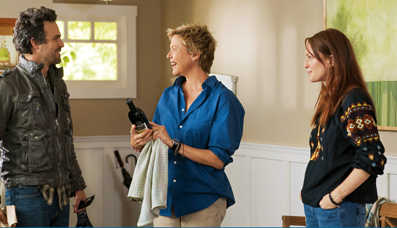 da taucht der biologische Vater und Samenspender Paul auf ...
Dieser Film lief im Xenon Kino im Dezember 2010 / Januar 2011