Julie Johnson

USA 2000 • 94 Min. • MPAA: not rated • engl. OV.

Regie:
Bob Gosse

Buch:
Bob Gosse, Wendy Hammond basierend auf dem gleichnamigen Theaterstück von Wendy Hammond

mit:
Lili Taylor, Courtney Love, Noah Emmerich,
Mischa Barton
(s.a. »Lost and Delirious« (2000)), Spalding Gray, Bill Golodner, Gideon Jacobs

Kamera / Bildgestaltung:
David M. Dunlap

Schnitt / Montage:
David Leonard

Musik: Angelo Badalamenti
(s.a. »Edge Of Love« (2008) und »Mulholland Drive« (2001)), Andrew Barrett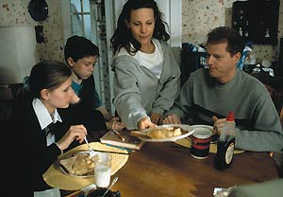 Julie beim Bedienen der Familie ...
Julie ist 31 und lebt mit ihren zwei Gören und einem langweiligen, herrischen Ehemann in Hoboken, New Jersey. In den wenigen Momenten, in denen sie sich mal nicht um die Wohnung, die Kinder oder den Mann kümmern muss, verschlingt sie ­ vozugsweise auf dem Klo - heimlich wissenschaftliche Zeitschriften. Ihre beste Freundin Claire, eine Art Vorstadt-Schlampe, überredet sie daraufhin einen Computerkurs an der Uni zu besuchen. Mit der Zeit entwickelt sich Julie zu einem Physik-Genie, welches von Ihrem Professor auch besonders gefördert wird. Mit dem wachsenden Wissen, geht die Emanzipation von ihrem Noch-Ehemann einher: Eines Tages schmeißt sie ihn schließlich aus der Wohnung, und Claire, angesteckt durch den Energieschwall, der von Julie ausgeht, zieht bei Julie und den Kindern ein. Schnell entwickelt sich aus den beiden Freundinnen ein … Liebespaar. Doch während Julie, bestärkt durch ihren erweiterten Intellekt, bereit ist, sämtliche Konventionen einzureissen und frei (und lesbisch) zu leben, bleibt Claire auf diesem Weg zurück … Julies Höhenflüge bleiben Claire suspekt, und schließlich kehrt sie zurück zu ihrem trinkenden und schlagenden Macker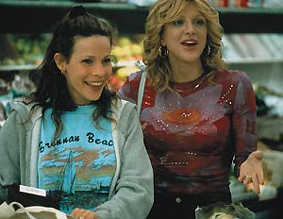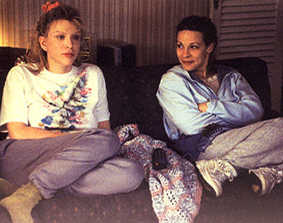 Julie mit ihrer besten Freundin Claire ... Claire und Julie haben sich ihr Zusammenleben eingerichtet ...

Dieser Film lief im Xenon im Januar und März 2002