La Virgen de los Sicarios

»Our lady of the Assassins « COL / FRA 2000 • 100 Min. • span.O.m.dt.U.

Regie:
Barbet Schroeder

Buch:
Fernando Vallejo

mit:
Germán Jaramillo, Anderson Ballesteros, Juan David Restrepo

Kamera / Bildgestaltung:
Rodrigo Lalinde

Schnitt / Montage:
Elsa Vásquez

Musik:
Jorge Arriagada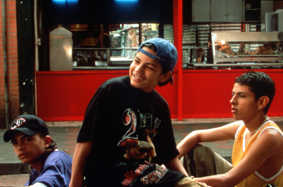 .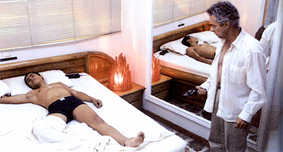 Die Strassenkids von Medellìn faszinieren Fernando ... Fernando (ver-)zweifelt am schlafenden Alexis ... kann er ihm trauen?
Auf seine alten Tage kehrt der erfolgreiche Autor Fernando, nach 30 Jahren im europäischem Exil, in seine kolumbianische Heimat zurück. In der Welt schon alles gesehen und erlebt, und ein bewegtes schwules Leben hinter sich, erwartet er sich an den Stätten seiner Kindheit Antworten auf offene Fragen. Doch die Realität in seiner Heimatstadt Medellín, der Drogenhauptstadt Kolumbiens schlechthin, haut ihn, und uns den Zuschauer, dann doch um. Die von Menschen wimmelnde und von der Armut der Bevölkerung gezeichnete Gebirgsstadt wird von Stadtteil zu Stadtteil von Drogengangs, die zumeist aus Jugendlichen und Kindern bestehen, regiert. Beim Herumstreifen durch die Stadt trifft Fernando auf eben eines dieser Strassenkinder und ist sofort fasziniert. Zwischen dem alten Mann und dem Jungen Alexis entwickelt sich nach dem ersten Sex - frei nach den Pet-Shop-Boys-Motto »I've Got The Brain, You've Got The Looks« - schnell ein pragmatisches Verhältnis: Fernando ist allein, hat Geld und Wohnung über der Stadt, Alexis ist jung, hat einen schönen Körper und kann Geld und einen Mentor gut gebrauchen … kommentiert von den trockenen, und zunehmend zynischen Kommentaren Fernandos begleiten wir die zwei durch Medellín: selbst Taxifahrer, die die falsche Musik hören und zu laute Nachbarn bleiben auf der Strecke … doch mit der Zeit wird es auch für Alexis immer gefährlicher: jeder Getötete wird widerum durch ein Familien- oder Bandenmitglied gerächt, die Mopeds mit schussbereiten Attentätern donnern durch die engen Strassen … die Bevölkerung schaut weg und für die Polizei bleibt nur, die Toten zu bergen … ein Kreislauf, aus dem auch Fernando Alexis nicht herausholen und retten kann …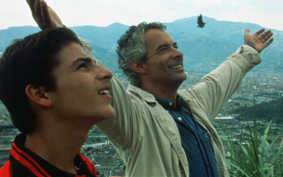 Über den Dächern der Stadt zeigt Fernando Alexis seine Geburtsstadt ....
A tempestuous gay love story between the seasoned author Fernando who returns to the cracked morals of drug capital Medellín, Colombia, and the trigger-happy 16-year-old assassin Alexis whose life isn't worth the bullets fired at him …