Kill Your Darlings - Junge Wilde

USA 2013 • 104 Min. • frei ab 16 • rated R (MPAA) for sexual content, language, drug use and brief violence

Regie:
John Krokidas

Buch:
John Krokidas, Austin Bunn

mit:
Daniel Radcliffe,
Dane Dehaan
(s.a. »Life« (2015)), Michael C. Hall, Ben Foster, Jennifer Jason Leigh, Elizabeth Olsen, Kyra Sedgwick

Kamera / Bildgestaltung:
Reed Morano

Schnitt / Montage: Brian A. Kates
(s.a. »All The Beauty And The Bloodshed« (2022) und »Shortbus« (2006) und »The Woodsman« (2004) und »Tarnation« (2004) und »Trick« (1998))

Musik:
Nico Muhly
Bilder: © Koch Media GmbH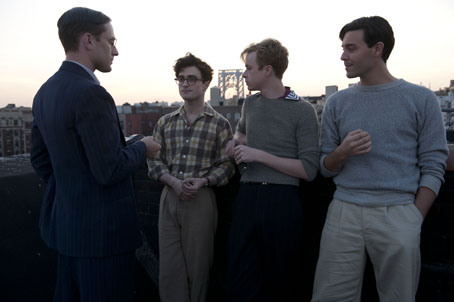 in den 40ern gründete sich die »Beat Generation« ...
Ginsberg. Kerouac. Burroughs - Wer waren die drei, bevor sie mit legendären Werken wie »Howl«, »Unterwegs - On the Road« und »Naked Lunch« weltberühmt wurden? Regisseur John Krokidas gelingt mit seinem leidenschaftlichen Debütfilm das aufwühlende Porträt dreier Freunde, die in den 1940er Jahren den Grundstein für eine neue Jugendkultur legten. Auf der Suche nach visionärer Ekstase verliehen sie dem Begriff »cool« neue Bedeutung und gründeten nebenbei die legendäre Beat Generation.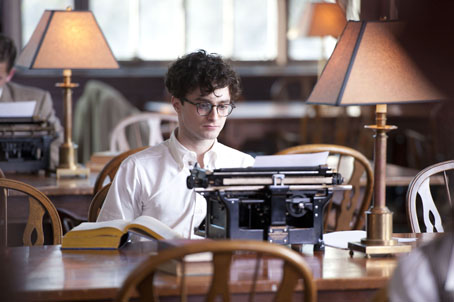 Allen Ginsberg wurde soeben an der Columbia University angenommen ...
Ein neues unglaubliches Leben beginnt für den jungen Allen Ginsberg als er 1944 an die New Yorker Columbia Universität kommt. Dort trifft er auf den faszinierenden Lucien Carr zu dem er sofort eine innere Verbundenheit spürt. Durch Lucien wird Allen in einen unkonventionellen Zirkel gleichgesinnter Literatur-Freunde eingeführt, die im Streben nach neuen Lebensentwürfen mit sämtlichen gesellschaftlichen Konventionen brechen. Ab sofort zieht Allen mit Lucien, Jack Kerouac und William S. Burroughs durch die Underground Szene von Greenwich Village und lässt sich für seine Gedichte von der Spontanität und dem Chaos in seinem Leben und dem seiner Freunde inspirieren. Bald jedoch wird der creative Rausch nicht nur durch Allens labile Mutter gestört, sondern auch durch Luciens älteren Verehrer David Kammerer, der Lucien mehr und mehr unter Druck setzt. Nichts davon lässt allerdings ahnen, dass schließlich ein Mord zur Bewährungsprobe für die Freunde werden wird ...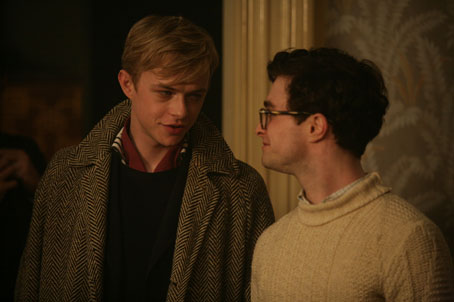 Ginsberg mit Lucien Carr ...

Dieser Film lief im Xenon im März 2014