Humpday

USA 2009 • 94 Min. • frei ab 16 • MPAA: rated R for some strong sexual content, pervasive language and a scene of drug use • engl. O.m.U.

Regie:
Lynn Shelton

Buch:
Lynn Shelton

mit:
Mark Duplass, Joshua Leonard, Alycia Delmore, Trina Willard

Kamera / Bildgestaltung:
Benjamin Kasulke

Schnitt / Montage:
Nat Sanders

Musik:
Vinny Smith

www.humpdayfilm.com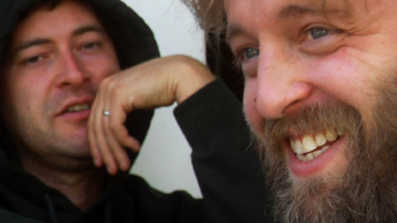 .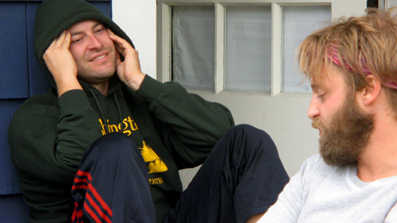 Andrew trifft seinen alten Kumpel Ben wieder ... nach einer durchzechten Nacht, erinnert man sich an den Entschluss einen Porno zu drehen ...


Andrew führt ein angenehmes Leben. Ein guter Job, ein eigenes Haus, sowie eine nette Ehefrau samt Familienplanung lassen alles bestens, angenehm, aber nicht zu langweilig erscheinen. Bis plötzlich eines nachts Ben, früherer Freund vom College und Weltenbummler, vor der Tür steht. Man erinnert sich an die guten, alten Zeiten und neue Geschichten und Abenteuer werden ausgetauscht. Andrew bewundert Bens Ungebundenheit, doch sie macht ihm auch ein wenig Angst, während Ben unvoreingenommen die Lebensweise des Freundes zu respektieren scheint.
Auf einer Künstlerparty wollen die beiden betrunkenen und bekifften Freunde es dann aber doch wissen und sich und den anderen beweisen, wie hip sie (noch immer) sind. Sie werden beim HUMPFEST, ein Amateur/Kunstporno-Filmfestival, mitmachen und den ultimativ subversiven Porno abliefern ­ zwei heterosexuelle Männer, die miteinander Sex haben. Das ist Kunst, das ist cool - jedenfalls bis zum nächsten Morgen! Die Bemühungen, sich voreinander keine Blösse zu geben und Andrews Frau den Plan möglichst schonend beizubringen, seziert der Film vergnüglichst, ohne die Beteiligten blosszustellen.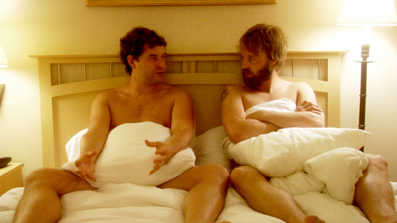 .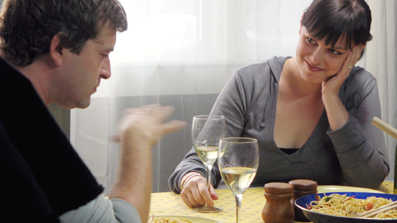 wird das nun was? ... aber wie sagt's man der Frau?
It's been a decade since Ben (Duplass) and Andrew (Leonard) were the bad boys of their college campus. Ben has settled down and found a job, wife, and home. Andrew took the alternate route as a vagabond artist, skipping the globe from Chiapas to Cambodia. When Andrew shows up unannounced on Ben's doorstep, they easily fall back into their old dynamic of macho one-upmanship.
Late into the night at a wild party, the two find themselves locked in a mutual dare: to enter an amateur porn contest together. But what kind of boundary-breaking, envelope pushing porn can two straight dudes make? After the booze and »big talk» run out, only one idea remains - they will have sex together ... on camera. It's not gay; it's beyond gay. It's not porn; it's art. But how exactly will it work? And more importantly, who will tell Anna (Delmore), Ben's wife?

Dieser Film lief im Xenon im 2010